Propuesta de educación con enfoque semiótico ambiental dirigida al proyecto ambiental escolar (prae) de la I.E.M Técnico Comercial Santa Rita de Facatativá, Cundinamarca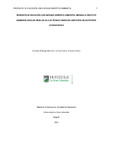 Date
2023
Author
Buitrago, Carolina
Fonseca, Luis
Título obtenido
Magister en Educación
Publicador
Universidad La Gran Colombia
Facultad
Facultad de Postgrados
Programa
Maestría en Educación
Share
TY - GEN T1 - Propuesta de educación con enfoque semiótico ambiental dirigida al proyecto ambiental escolar (prae) de la I.E.M Técnico Comercial Santa Rita de Facatativá, Cundinamarca AU - Buitrago, Carolina AU - Fonseca, Luis Y1 - 2023 UR - http://hdl.handle.net/11396/7643 PB - Universidad La Gran Colombia AB - Environmental semiotics has contributed to the field of education through an interdisciplinary approach and community environmental management, It is primarily interested in knowledge, in the interpretation of the natural environment and the environmental valuation of the different SOCIAL actors, as well as the protection of the cultural patrimony and the conservation of the environment of the countries. It should be noted that its main purpose is directly related to the purposes of education for sustainable development promulgated by law 115 and decree 1743 of 1994 of the Ministry of National Education (MEN) which sets the criteria for environmental education in Colombia and the School Environmental Projects (PRAE). This work is proposed from an interpretative humanistic approach, which implies a vision that considers human experience as a fundamental element in the construction of meanings of a social nature. For this purpose, the perceptions of the members of the educational community from the application of questionnaires. Subsequently, a matrix is applied diagnosis to the PRAE and a documentary exploration of the PEI is carried out to identify the processes of environmental education in the last three years. The results obtained are contrasted, serving as input for the design of a transversal action matrix with an environmental semiotic approach, raising the possibility of articulating the different areas of knowledge and the participation of all the educational community in the project. ER -
@misc{11396_7643, author = {Buitrago Carolina and Fonseca Luis}, title = {Propuesta de educación con enfoque semiótico ambiental dirigida al proyecto ambiental escolar (prae) de la I.E.M Técnico Comercial Santa Rita de Facatativá, Cundinamarca}, year = {2023}, abstract = {Environmental semiotics has contributed to the field of education through an interdisciplinary approach and community environmental management, It is primarily interested in knowledge, in the interpretation of the natural environment and the environmental valuation of the different SOCIAL actors, as well as the protection of the cultural patrimony and the conservation of the environment of the countries. It should be noted that its main purpose is directly related to the purposes of education for sustainable development promulgated by law 115 and decree 1743 of 1994 of the Ministry of National Education (MEN) which sets the criteria for environmental education in Colombia and the School Environmental Projects (PRAE). This work is proposed from an interpretative humanistic approach, which implies a vision that considers human experience as a fundamental element in the construction of meanings of a social nature. For this purpose, the perceptions of the members of the educational community from the application of questionnaires. Subsequently, a matrix is applied diagnosis to the PRAE and a documentary exploration of the PEI is carried out to identify the processes of environmental education in the last three years. The results obtained are contrasted, serving as input for the design of a transversal action matrix with an environmental semiotic approach, raising the possibility of articulating the different areas of knowledge and the participation of all the educational community in the project.}, url = {http://hdl.handle.net/11396/7643} }
RT Generic T1 Propuesta de educación con enfoque semiótico ambiental dirigida al proyecto ambiental escolar (prae) de la I.E.M Técnico Comercial Santa Rita de Facatativá, Cundinamarca YR 2023 LK http://hdl.handle.net/11396/7643 PB Universidad La Gran Colombia AB Environmental semiotics has contributed to the field of education through an interdisciplinary approach and community environmental management, It is primarily interested in knowledge, in the interpretation of the natural environment and the environmental valuation of the different SOCIAL actors, as well as the protection of the cultural patrimony and the conservation of the environment of the countries. It should be noted that its main purpose is directly related to the purposes of education for sustainable development promulgated by law 115 and decree 1743 of 1994 of the Ministry of National Education (MEN) which sets the criteria for environmental education in Colombia and the School Environmental Projects (PRAE). This work is proposed from an interpretative humanistic approach, which implies a vision that considers human experience as a fundamental element in the construction of meanings of a social nature. For this purpose, the perceptions of the members of the educational community from the application of questionnaires. Subsequently, a matrix is applied diagnosis to the PRAE and a documentary exploration of the PEI is carried out to identify the processes of environmental education in the last three years. The results obtained are contrasted, serving as input for the design of a transversal action matrix with an environmental semiotic approach, raising the possibility of articulating the different areas of knowledge and the participation of all the educational community in the project. OL Spanish (121)
Gestores bibliográficos
Abstract
La semiótica ambiental aporta al campo de la educación a través de un enfoque interdisciplinario y de gestión ambiental comunitario, se interesa primordialmente en los saberes, en la interpretación del entorno natural y la valoración ambiental de los diferentes actores sociales, así como la protección del patrimonio cultural y la conservación del medio ambiente de los pueblos. Cabe destacar que este su principal propósito está directamente relacionado con los fines de la educación para el desarrollo sostenible promulgados por la ley 115 y del decreto 1743 de 1994 del Ministerio de Educación Nacional (MEN) el cual fija los criterios de la educación ambiental en Colombia y de los proyectos Ambientales Escolares (PRAE). Este trabajo se plantea desde un enfoque humanístico interpretativo, el cual implica una visión que considera la experiencia humana como un elemento fundamental en la construcción de significados de carácter social. Para tal fin, se tuvieron en cuenta las percepciones de los integrantes de la comunidad educativa a partir de la aplicación de cuestionarios. Posteriormente, se aplica una matriz diagnóstica al PRAE y se realiza una exploración documental del PEI para identificar los procesos de educación ambiental en los tres últimos años. Los resultados obtenidos se contrastan, sirviendo de insumo para el diseño de una matriz de acción transversal con enfoque semiótico ambiental, planteando la posibilidad de articular las diferentes áreas del conocimiento y la participación de toda la comunidad educativa en el proyecto.
Abstract
Environmental semiotics has contributed to the field of education through an interdisciplinary approach and community environmental management, It is primarily interested in knowledge, in the interpretation of the natural environment and the environmental valuation of the different SOCIAL actors, as well as the protection of the cultural patrimony and the conservation of the environment of the countries. It should be noted that its main purpose is directly related to the purposes of education for sustainable development promulgated by law 115 and decree 1743 of 1994 of the Ministry of National Education (MEN) which sets the criteria for environmental education in Colombia and the School Environmental Projects (PRAE). This work is proposed from an interpretative humanistic approach, which implies a vision that considers human experience as a fundamental element in the construction of meanings of a social nature. For this purpose, the perceptions of the members of the educational community from the application of questionnaires. Subsequently, a matrix is applied diagnosis to the PRAE and a documentary exploration of the PEI is carried out to identify the processes of environmental education in the last three years. The results obtained are contrasted, serving as input for the design of a transversal action matrix with an environmental semiotic approach, raising the possibility of articulating the different areas of knowledge and the participation of all the educational community in the project.
Except where otherwise noted, this item's license is described as Attribution-NonCommercial-NoDerivatives 4.0 International
Related items
Showing items related by title, author, creator and subject.
Quinche Rozo, Karen Viviana

;

Rodríguez Paloma, Edwin Alexander

(

Universidad La Gran Colombia; Facultad de Postgrados; Especialización en Derecho Administrativo

,

2015

)

Las concesiones viales en Colombia han significado progreso para el país, en el entendido de que la infraestructura ha ido creciendo vertiginosamente y se ha tornado en uno de los pilares fundamentales de desarrollo. Sin ...

Vallejo Moreno, Gilberto; Ferro Suárez, Lizeth Paola; Awazacko Martínez, María Camila

Knowledge and analysis of socio-environmental of Ubaque, that is, in the connection of the natural base with social processes and governability, including participation, led to validate a proposed hypothesis: "Socio-en ...

Rueda Guerrero, Sandra Jineth

;

Ubaque Ortiz, Yamid Hernando

;

Quijano Corredor, Pavel Andrei

(

Universidad La Gran Colombia; Facultad de Postgrados; Especialización en Gerencia y Mercadeo

,

2014

)

Día a día a tomado más fuerza el tema ambiental, y ha venido siendo más relevante en la toma de decisiones empresariales, es por ello que en los últimos años la legislación y los programas gubernamentales han dirigido sus ...