Transformación en los escenarios de enseñanza-aprendizaje diseño de exploración en la educación básica primaria y secundaria. Colegio Islandia, localidad de Bosa, Bogotá D.C.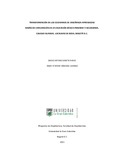 Date
2021
Author
Gantiva Ruiz, Diego Arturo
Sanchez Lozano, Anny Stefany
Título obtenido
Arquitecto(a)
Publicador
Universidad La Gran Colombia
Abstract
La creación de nuevos escenarios de enseñanza aprendizaje se hace necesaria en la actualidad, esto debido a la evolución de los modelos educativos, haciendo necesario el repensar de los espacios dentro de la infraestructura educativa. La idea principal para el diseño, es la distribución de las aulas y sus espacios esenciales, para facilitar diversas relaciones o interacciones que permitan abordar el conocimiento de forma dinámica y flexible, en un modelo para el aprendizaje donde cada persona puede encontrar la información y el desarrollo de sus capacidades utilizando la arquitectura como un medio multipropósito dentro del proceso de educación. Es por eso, que el presente trabajo explora y genera espacios que permitan una vinculación adecuada entre profesor-estudiante y teorías del aprendizaje, por medio de un diseño enfocado en el concepto de escenario y bajo las estrategias que pueden construirse desde el espacio-tiempo (cronotopo), la hiperconexión y la renaturalización, consolidando un sistema espacial coherente y versátil para la educación de los niños.
Abstract
The creation of new teaching – learning setting are fundamental currently speaking; thus like new spaces have been created in different fields concerning to architecture, it is time that from the very start we re-think about new educational spaces by the fact that traditional education does not go beyond a unique space of which develops the knowledge itself in one-direction way conformed by detached-rooms and a hall connecting them one another. The main idea for the design of educational equipments is the classrooms lay-out and essential spaces but not the way how they can be managed diversed relations or interactions letting us aboard knowledge from different ways, it is clear that learning does not develop in the same way in each person by the fact that each one acquires information in a different way, through different means and moments. Shall not an educational institution be an exploring place and thus generate multiple ways of learning? Therefore the actual tesis explores and generates spaces of which permit us a suitable link between theories by a focused design in the scenario and te relation space-time (chronotope) to be created at a school and its educational day, like wise create a hyperconnection between activities and learning.