Panel para cielo raso en bambú aulonemia para el aislamiento acústico en la vivienda vertical en Bogotá.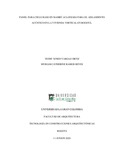 Date
2020
Author
Ramos Reyes, Myriam Catherine
Vargas Ortiz, Yeimy Yined
Título obtenido
Arquitecto(a)
Publicador
Universidad La Gran Colombia
Abstract
La presente investigación plantea el desarrollo de un panel de aislamiento acústico empleando como materia prima el bambú aulonemia. En Colombia la oferta de materiales con respuesta acústica tiene elevados costos y alta huella ambiental, es por ello que se ve el aprovechamiento de este elemento para lograr cumplir las necesidades del mercado sin llegar a comprometer a las generaciones futuras. Dentro del contenido de este documento se evidenciará la exposición del bambú aulonemia ante una prueba de atenuación de ondas, que logra validar el comportamiento positivo ante las fuentes sonoras incidentes y por transmisión sonora, esto con el fin de responder a la necesidad de confort acústico dentro de la vivienda vertical. Para su desarrollo se tiene en cuenta una metodología cuantitativa, además del protocolo de ensayo aplicable para esta investigación, como el concepto de cámara anecoica aplicado bajo la estructura de otros documentos referenciado dentro del documento, ya que no se pudo tener el acceso a los laboratorios pertinentes debido a la pandemia global que transcurre paralelamente al momento de desarrollar este proyecto; finalmente los resultados obtenidos se comparan con otros materiales acústicos ofrecidos en el mercado actual en Colombia. Para terminar, el aporte esencial de este documento es la demostración del uso de material natural como una alternativa constructiva que logre responder a las necesidades ante los ruidos de impacto que se presenta en la vivienda vertical, y con esto darle un mejor aprovechamiento al bambú aulonemia.
Abstract
The present investigation proposes the development of an acoustic insulation panel using bamboo aulonemia as raw material. In Colombia the supply of materials with acoustic response it has high costs and a high environmental footprint, that is why you see the taking advantage of this element to meet the needs of the market without get to engage future generations. Within the content of this document, bamboo aulonemia exposure will be evidenced by a wave attenuation test, which manages to validate the behavior positive before incident sound sources and by sound transmission, this in order to respond to the need for acoustic comfort within vertical housing. For its development, a quantitative methodology is taken into account, in addition to applicable test protocol for this research, such as the camera concept anechoic applied under the structure of other documents referenced within the document, as the relevant laboratories could not be accessed due to the global pandemic that runs parallel to the moment of developing this project; finally the results obtained are compared with other acoustic materials offered in the current market in Colombia. In conclusion, the essential contribution of this document is the demonstration of the use of natural material as a constructive alternative that manages to respond to the needs in the face of impact noises that occur in vertical housing, and with this give it a better use of bamboo aulonemia.
Collections