Diseño de un clúster creativo articulado al Bronx distrito creativo en el plan parcial "Voto Nacional" en Bogotá D.C.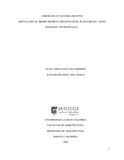 Date
2020
Author
Guevara Romero, Juan Camilo
Sepúlveda Rojas, Juan Felipe
Título obtenido
Arquitecto(a)
Publicador
Universidad La Gran Colombia
Abstract
El sector del barrio Voto Nacional a través de los años se ha visto afectado por la extracción de actividades que le daban vida al sector (plazas de mercado, ferrocarril nacional y terminal de transporte) y llevó su estructura social-espacial a una situación de alto deterioro. Actualmente se desarrolla el Plan Parcial "Voto Nacional" donde se plantea una organización urbana ubicando el Bronx Distrito Creativo cuyo propósito es ser la primera sede en Bogotá de las industrias creativas y culturales. A pesar de que el plan parcial propone nuevos usos y actividades para la zona, en la presente investigación, se considera necesario fortalecer las industrias mencionadas mediante el diseño de un edificio que funcione como Clúster Creativo, bajo el concepto de límites difusos, para la producción de contenidos que apoye a los emprendedores y medianas empresas que harán parte de el, así como los estudiantes que egresan del SENA planteado en el plan. Para su ejecución se desarrollaron algunas conversaciones con personas inmersas en ese universo que dieron como resultado una organización realista de las necesidades de los actores involucrados.
Abstract
The sector of the Voto Nacional neighborhood over the years has been affected by the extraction of activities that gave life to the sector (market places, national rail and transport terminal) and brought its social-spatial structure to a high situation deterioration. Currently, the "Voto Nacional" Partial Plan is being developed, where an urban organization is proposed, placing the Bronx Creative District whose purpose is to be the first headquarters in Bogotá of the creative and cultural industries. Although the partial plan proposes new uses and activities for the area, in the present investigation, it is considered necessary to strengthen the mentioned industries by designing a building that functions as a creative cluster, under the concept of diffuse limits, for production of contents that support entrepreneurs and medium-sized companies that will be part of it, as well as students who graduate from SENA proposed in the plan. For its execution, semi-structured interviews were carried out with people immersed in that universe that resulted in a realistic organization of the needs of the actors involved.