Unidades de vivienda TRIBU: Un nuevo modelo de densificación de vivienda en el municipio de Guasca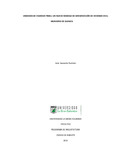 Date
2022
Author
Saavedra Ramirez, Jairo
Título obtenido
Arquitecto(a)
Publicador
Universidad La Gran Colombia
Share
TY - GEN T1 - Unidades de vivienda TRIBU: Un nuevo modelo de densificación de vivienda en el municipio de Guasca AU - Saavedra Ramirez, Jairo Y1 - 2022 UR - http://hdl.handle.net/11396/7251 PB - Universidad La Gran Colombia AB - The need for housing in Colombia throughout its history has been in great demand and with the passing of each government it has tried to provide an offer for this need, but even so, many of the municipalities currently have a housing deficit, in In this case study located in the municipality of Guasca Cundinamarca, as Muñoz (2018) mentions, it is evident that it has a 32% deficit with respect to housing, this percentage is quite high for the current population that does not exceed 15,000 inhabitants between the area rural and urban. The current problem generates as a consequence that the current houses present structural deterioration and overcrowding, a proposal is made in which the current deficit can be reduced 424 VIP houses, in which it will be destined for the population that comes from the rural and urban areas. Applying the book vital environments as a theory, it allows to generate an urban proposal that is vital and at the same time use the concept of tools to inhabit the present. The housing of the 21st century allowed the development of housing typologies, thinking about the needs of the population and creating housing spaces that are functional at different times of the day. ER -
@misc{11396_7251, author = {Saavedra Ramirez Jairo}, title = {Unidades de vivienda TRIBU: Un nuevo modelo de densificación de vivienda en el municipio de Guasca}, year = {2022}, abstract = {The need for housing in Colombia throughout its history has been in great demand and with the passing of each government it has tried to provide an offer for this need, but even so, many of the municipalities currently have a housing deficit, in In this case study located in the municipality of Guasca Cundinamarca, as Muñoz (2018) mentions, it is evident that it has a 32% deficit with respect to housing, this percentage is quite high for the current population that does not exceed 15,000 inhabitants between the area rural and urban. The current problem generates as a consequence that the current houses present structural deterioration and overcrowding, a proposal is made in which the current deficit can be reduced 424 VIP houses, in which it will be destined for the population that comes from the rural and urban areas. Applying the book vital environments as a theory, it allows to generate an urban proposal that is vital and at the same time use the concept of tools to inhabit the present. The housing of the 21st century allowed the development of housing typologies, thinking about the needs of the population and creating housing spaces that are functional at different times of the day.}, url = {http://hdl.handle.net/11396/7251} }
RT Generic T1 Unidades de vivienda TRIBU: Un nuevo modelo de densificación de vivienda en el municipio de Guasca YR 2022 LK http://hdl.handle.net/11396/7251 PB Universidad La Gran Colombia AB The need for housing in Colombia throughout its history has been in great demand and with the passing of each government it has tried to provide an offer for this need, but even so, many of the municipalities currently have a housing deficit, in In this case study located in the municipality of Guasca Cundinamarca, as Muñoz (2018) mentions, it is evident that it has a 32% deficit with respect to housing, this percentage is quite high for the current population that does not exceed 15,000 inhabitants between the area rural and urban. The current problem generates as a consequence that the current houses present structural deterioration and overcrowding, a proposal is made in which the current deficit can be reduced 424 VIP houses, in which it will be destined for the population that comes from the rural and urban areas. Applying the book vital environments as a theory, it allows to generate an urban proposal that is vital and at the same time use the concept of tools to inhabit the present. The housing of the 21st century allowed the development of housing typologies, thinking about the needs of the population and creating housing spaces that are functional at different times of the day. OL Spanish (121)
Gestores bibliográficos
Abstract
La necesidad de vivienda en Colombia a lo largo de su historia ha tenido una gran demanda y con el transcurso de cada gobierno se ha tratado dar una oferta a esta necesidad, pero aún así muchos de los municipios en la actualidad presentan un déficit habitacional, en este caso de estudio ubicado en el municipio de Guasca Cundinamarca como menciona Muñoz (2018), se evidencia que tiene un 32% de déficit con respecto a vivienda, este porcentaje es bastante alto para la población actual que no supera los 15.000 habitantes entre la zona rural y urbana. La problemática actual genera como consecuencia que las viviendas actuales presentan deterioro estructural y hacinamiento, se realiza una propuesta en la que se pueda mitigar el déficit actual generando 424 viviendas VIP, en las que se destinara para la población que viene de la zona rural y urbana. Aplicando como teoría el libro entornos vitales, permite generar una propuesta urbana que sea vital y a la vez utilizar el concepto herramientas para habitar el presente. La vivienda del siglo XXI permitiendo desarrollar tipologías de vivienda, pensando en las necesidades de la población y realizando espacios de la vivienda que sean funcionales en distintas horas del día.
Abstract
The need for housing in Colombia throughout its history has been in great demand and with the passing of each government it has tried to provide an offer for this need, but even so, many of the municipalities currently have a housing deficit, in In this case study located in the municipality of Guasca Cundinamarca, as Muñoz (2018) mentions, it is evident that it has a 32% deficit with respect to housing, this percentage is quite high for the current population that does not exceed 15,000 inhabitants between the area rural and urban. The current problem generates as a consequence that the current houses present structural deterioration and overcrowding, a proposal is made in which the current deficit can be reduced 424 VIP houses, in which it will be destined for the population that comes from the rural and urban areas. Applying the book vital environments as a theory, it allows to generate an urban proposal that is vital and at the same time use the concept of tools to inhabit the present. The housing of the 21st century allowed the development of housing typologies, thinking about the needs of the population and creating housing spaces that are functional at different times of the day.
Except where otherwise noted, this item's license is described as Attribution-NonCommercial-NoDerivatives 4.0 International
Related items
Showing items related by title, author, creator and subject.
Costo Martínez, Brenda Lindsay

;

Amaya Tibocha, Paola Alexandra

(

Universidad La Gran Colombia; Arquitectura; Arquitectura

,

2021

)

El presente trabajo surge de la necesidad de mejorar la calidad de vida residencial de la población del Quibdó, por medio de un diseño de vivienda productiva sostenible y un manual de autoconstrucción de esta, permitiendo ...

Labrador Avendaño, Geimar Mauricio

(

Universidad La Gran Colombia; Arquitectura; Arquitectura

,

2016

)

La formulación de este proyecto está arraigada en un problema de inundaciones constantes que tiene como damnificados a los habitantes del corregimiento El Porvenir, un asentamiento ubicado a cinco kilómetros del casco ...

Cristancho Colmenares, Luis Alberto

(

Universidad La Gran Colombia; Arquitectura; Arquitectura

,

2021

)

El déficit de vivienda no solamente describe la ausencia o falta de vivienda, sino el conjunto de carencias y precariedad, que determinan las condiciones en que habita la población. Boavita, es el municipio más grande de ...