Sistematización compositiva y constructiva de proyectos en guadua: De la autoconstrucción a BIM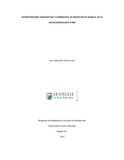 Date
2021
Author
Galindo Leal, Juan Sebastian
Título obtenido
Arquitecto(a)
Publicador
Universidad La Gran Colombia
Share
TY - GEN T1 - Sistematización compositiva y constructiva de proyectos en guadua: De la autoconstrucción a BIM AU - Galindo Leal, Juan Sebastian Y1 - 2021 UR - http://hdl.handle.net/11396/6201 PB - Universidad La Gran Colombia AB - Bamboo through history has developed and consolidated worldwide as a versatile material with a wide variety of applications and closely linked to environmental sustainability criteria, although at the international level China is the country that leads the manufacturing industry around the world. bamboo, Colombia has not lagged behind, as it is a country that has presented important scientific and investigative advances in the material. Colombia has a wide variety of academic research on the material, additionally it has state regulations for its use in construction such as NSR 10 (Colombian earthquake resistant standard) and the compendium of Colombian technical standards (NTC), which standardize the use of the material, however in the practical exercise of construction in the Colombian context erroneous processes are evidenced that go against what is described in the norms and in scientific research. This research project arises from the need to solve technical and compositional problems that is present in constructions built in guadua, which translate into a negative positioning of this good material in construction, taking into account that guadua is a highly renewable material, it has excellent physical-mechanical characteristics and is a proliferating resource in the country, making it an ideal material for sustainable construction. The project will begin with a survey of information on the main constructive and compositional flaws in bamboo structures and the analysis of their incidence within the construction process and their life cycle, consecutively the formal investigative process will begin, in terms of constructive and architectural typologies. , in order to have technical references for projects that allow meeting the objectives. This process will be iterative through the use of the BIM methodology that will allow an optimal management of the collected data and a faster and more precise analysis in order to make correct decisions about the project in a systematic and fluid way. Finally, the BIM guidelines for projects in guadua will be structured, in this way the parameters, standards, requirements and workflows for their correct execution will be established, as well as the roadmaps for the execution of dimensions 3, 4, 5 and 7. This information is listed within the annexes of the research project, under the BEP document (BIM Execution Plan for its acronym in English). ER -
@misc{11396_6201, author = {Galindo Leal Juan Sebastian}, title = {Sistematización compositiva y constructiva de proyectos en guadua: De la autoconstrucción a BIM}, year = {2021}, abstract = {Bamboo through history has developed and consolidated worldwide as a versatile material with a wide variety of applications and closely linked to environmental sustainability criteria, although at the international level China is the country that leads the manufacturing industry around the world. bamboo, Colombia has not lagged behind, as it is a country that has presented important scientific and investigative advances in the material. Colombia has a wide variety of academic research on the material, additionally it has state regulations for its use in construction such as NSR 10 (Colombian earthquake resistant standard) and the compendium of Colombian technical standards (NTC), which standardize the use of the material, however in the practical exercise of construction in the Colombian context erroneous processes are evidenced that go against what is described in the norms and in scientific research. This research project arises from the need to solve technical and compositional problems that is present in constructions built in guadua, which translate into a negative positioning of this good material in construction, taking into account that guadua is a highly renewable material, it has excellent physical-mechanical characteristics and is a proliferating resource in the country, making it an ideal material for sustainable construction. The project will begin with a survey of information on the main constructive and compositional flaws in bamboo structures and the analysis of their incidence within the construction process and their life cycle, consecutively the formal investigative process will begin, in terms of constructive and architectural typologies. , in order to have technical references for projects that allow meeting the objectives. This process will be iterative through the use of the BIM methodology that will allow an optimal management of the collected data and a faster and more precise analysis in order to make correct decisions about the project in a systematic and fluid way. Finally, the BIM guidelines for projects in guadua will be structured, in this way the parameters, standards, requirements and workflows for their correct execution will be established, as well as the roadmaps for the execution of dimensions 3, 4, 5 and 7. This information is listed within the annexes of the research project, under the BEP document (BIM Execution Plan for its acronym in English).}, url = {http://hdl.handle.net/11396/6201} }
RT Generic T1 Sistematización compositiva y constructiva de proyectos en guadua: De la autoconstrucción a BIM YR 2021 LK http://hdl.handle.net/11396/6201 PB Universidad La Gran Colombia AB Bamboo through history has developed and consolidated worldwide as a versatile material with a wide variety of applications and closely linked to environmental sustainability criteria, although at the international level China is the country that leads the manufacturing industry around the world. bamboo, Colombia has not lagged behind, as it is a country that has presented important scientific and investigative advances in the material. Colombia has a wide variety of academic research on the material, additionally it has state regulations for its use in construction such as NSR 10 (Colombian earthquake resistant standard) and the compendium of Colombian technical standards (NTC), which standardize the use of the material, however in the practical exercise of construction in the Colombian context erroneous processes are evidenced that go against what is described in the norms and in scientific research. This research project arises from the need to solve technical and compositional problems that is present in constructions built in guadua, which translate into a negative positioning of this good material in construction, taking into account that guadua is a highly renewable material, it has excellent physical-mechanical characteristics and is a proliferating resource in the country, making it an ideal material for sustainable construction. The project will begin with a survey of information on the main constructive and compositional flaws in bamboo structures and the analysis of their incidence within the construction process and their life cycle, consecutively the formal investigative process will begin, in terms of constructive and architectural typologies. , in order to have technical references for projects that allow meeting the objectives. This process will be iterative through the use of the BIM methodology that will allow an optimal management of the collected data and a faster and more precise analysis in order to make correct decisions about the project in a systematic and fluid way. Finally, the BIM guidelines for projects in guadua will be structured, in this way the parameters, standards, requirements and workflows for their correct execution will be established, as well as the roadmaps for the execution of dimensions 3, 4, 5 and 7. This information is listed within the annexes of the research project, under the BEP document (BIM Execution Plan for its acronym in English). OL Spanish (121)
Gestores bibliográficos
Abstract
El bambú a través de la historia se ha desarrollado y consolidado a nivel mundial como un material versátil con una gran variedad de aplicaciones y ligado estrechamente con criterios de sostenibilidad ambiental, si bien a nivel internacional China es el país que lidera la industria manufacturera entorno al bambú, Colombia no se ha quedado rezagada, pues es un país que ha presentado importantes avances científicos e investigativos del material. Colombia cuenta con una gran variedad de investigaciones académicas sobre el material, adicionalmente tiene normativas estatales para su uso en la construcción como lo es la NSR 10 (Norma sismo resistente Colombiana) y el compendio de normas técnicas Colombianas (NTC), que estandarizan el aprovechamiento del material, no obstante en el ejercicio práctico de la construcción en el contexto Colombiano se evidencian procesos erróneos que van en contra de lo descrito en las normas y en las investigaciones científicas. El presente proyecto de investigación nace de la necesidad de solventar problemas técnicos y compositivos que se presentan en las viviendas construidas en guadua, que se traducen en un posicionamiento negativo de este bondadoso material en la construcción, teniendo en cuenta que la guadua es un material altamente renovable, posee características físico mecánicas excelentes y es un recurso proliferante en el país, lo convierten en un material ideal para la construcción sostenible. El proyecto iniciara con un levantamiento de información de las principales falencias constructivas y compositivas en estructuras de bambú y el análisis de su incidencia dentro del proceso constructivo y su vida útil, consecutivamente se dará inicio al proceso investigativo formal, en cuanto a tipologías constructivas y arquitectónicas, con el fin de contar con referentes técnicos de proyectos que permitan cumplir los objetivos. Este proceso será iterativo mediante el uso de la metodología BIM que permitirá una gestión optima de los datos recolectados y un análisis más rápido y preciso con el fin de tomar decisiones acertadas sobre el proyecto de forma sistemática y fluida. Finalmente se estructurarán los lineamientos BIM para proyectos en guadua, de esta forma se establecerán los parámetros, estándares, requerimientos y flujos de trabajo para su correcta ejecución así mismo se establecen las hojas de ruta para la ejecución de las dimensiones 3, 4, 5 y 7. Esta información se encuentra relacionada dentro de los anexos del proyecto investigativo, bajo el documento BEP (Plan de ejecución BIM por sus siglas en ingles).
Abstract
Bamboo through history has developed and consolidated worldwide as a versatile material with a wide variety of applications and closely linked to environmental sustainability criteria, although at the international level China is the country that leads the manufacturing industry around the world. bamboo, Colombia has not lagged behind, as it is a country that has presented important scientific and investigative advances in the material. Colombia has a wide variety of academic research on the material, additionally it has state regulations for its use in construction such as NSR 10 (Colombian earthquake resistant standard) and the compendium of Colombian technical standards (NTC), which standardize the use of the material, however in the practical exercise of construction in the Colombian context erroneous processes are evidenced that go against what is described in the norms and in scientific research. This research project arises from the need to solve technical and compositional problems that is present in constructions built in guadua, which translate into a negative positioning of this good material in construction, taking into account that guadua is a highly renewable material, it has excellent physical-mechanical characteristics and is a proliferating resource in the country, making it an ideal material for sustainable construction. The project will begin with a survey of information on the main constructive and compositional flaws in bamboo structures and the analysis of their incidence within the construction process and their life cycle, consecutively the formal investigative process will begin, in terms of constructive and architectural typologies. , in order to have technical references for projects that allow meeting the objectives. This process will be iterative through the use of the BIM methodology that will allow an optimal management of the collected data and a faster and more precise analysis in order to make correct decisions about the project in a systematic and fluid way. Finally, the BIM guidelines for projects in guadua will be structured, in this way the parameters, standards, requirements and workflows for their correct execution will be established, as well as the roadmaps for the execution of dimensions 3, 4, 5 and 7. This information is listed within the annexes of the research project, under the BEP document (BIM Execution Plan for its acronym in English).
Except where otherwise noted, this item's license is described as Attribution-NonCommercial-NoDerivatives 4.0 International
Related items
Showing items related by title, author, creator and subject.
Gama Neira, Cindy Yineth

(

Universidad La Gran Colombia; Facultad de Arquitectura; Tecnología en Construcciones Arquitectónicas

,

2019

)

El proyecto tiene como objetivo crear un sistema de anclaje para el panel ecológico de guadua laminada y granulados en madera y caucho, que en adelante se llamara panel ecológico GMC; por las iniciales de los materiales ...

Muñoz Rodríguez, Johan Camilo

(

Universidad La Gran Colombia; Facultad de Ingeniería Civil; Ingeniería Civil

,

2014

)

Tesis (Ingeniero Civil) -- Universidad La Gran Colombia.

Prieto Mateus, Walter Vladimir

(

Universidad La Gran Colombia; Facultad de Ingeniería Civil; Ingeniería Civil

,

2014

)

Tesis (Ingeniero Civil) -- Universidad La Gran Colombia.