Redescubriendo el hábitat y paisaje rural. Prototipo bioconstructivo de vivienda rural adaptable al paisaje. Caso: Fómeque Cundinamarca.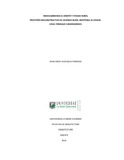 Date
2020
Author
Velásquez Parrado, John Fredy
Título obtenido
Arquitecto(a)
Publicador
Universidad La Gran Colombia
Abstract
Las condiciones precarias de habitabilidad que tienen las viviendas campesinas en el área rural se deben entre sus múltiples factores causales a unas deficiencias en el diseño de la arquitectura doméstica, entendiendo esta misma como todo tipo de construcciones desarrolladas con la finalidad de salvaguardar la integridad familiar y el sustento diario, situación que se extiende a lo largo y ancho del continente. En la medida que estas deficiencias constructivas y espaciales se mantienen, resulta común en el imaginario colectivo y cotidiano que la vivienda rural es precaria por naturaleza, por lo que a la luz de propuestas habitacionales rurales parecieran inmodificables todas estas condiciones de baja calidad de vida y bajo confort habitacional para las familias campesinas, lo que incrementa el desconocimiento de sus valores culturales, productivos, económicos y de la riqueza de su entorno. Este proyecto busca controvertir el paradigma del desarrollo rural y su vivienda con la propuesta de un prototipo de ocupación territorial y vivienda campesina sostenible, accesible, de ágil ejecución, basada en la bioconstrucción, desarrollo progresivo y con una puesta en valor del paisaje rural.
Abstract
The precarious conditions of habitability that peasant dwellings have in the rural area are due among their many causal factors to deficiencies in the design of domestic architecture, understanding it as all kinds of constructions developed in order to safeguard family integrity and daily livelihood, a situation that extends throughout the continent. To the extent that these constructive and spatial deficiencies are maintained, it is common in the collective and everyday imagination that rural housing is precarious by nature, so in the light of rural housing proposals all these conditions of low quality of life and low housing comfort for peasant families seem unmotified, increasing the knowledge of their cultural values , productive, economic and the richness of its surroundings. This project seeks to combine the paradigm of rural development and its housing with the proposal of a prototype of territorial occupation and sustainable, accessible, agilely implemented peasant housing, based on bioconstruction, progressive development and with a value of the rural landscape.