Plan parcial de renovación, simbiosis urbana en Z.E.Z.A.I.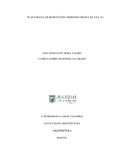 Date
2020
Author
Mora Valero, Gina Estefanny
Martínez Alvarado, Camilo Andres
Título obtenido
Arquitecto(a)
Publicador
Universidad La Gran Colombia
Abstract
La pieza urbana del barrio Santa Fe de la localidad Los Mártires en Bogotá se encuentra aislada de su contexto y se compacta como un micro territorio de borde urbano por la diversidad de dinámicas de su población residente que provoca hostigamiento y perturbación del tránsito peatonal y vehicular circundante. La propuesta consiste en realizar un plan parcial como valoración proyectual que permita mejorar la calidad de vida de las personas que se dedican a esta actividad de alto impacto y además determinar las estrategias pertinentes que se deben ejecutar en la pieza de ciudad para garantizar una simbiosis urbana mutualista y/o una regeneración urbana, en donde esta actividad de alto impacto se mantenga sin interferir con su contexto.
Abstract
The urban piece of the Santa Fe neighborhood in Los Mártires district in Bogotá is isolated from its context and compacts itself as an urban border micro-territory due to the diversity and dynamics of its resident population that causes harassment and disruption to the surrounding pedestrian and vehicular traffic .This proposal consists of carrying out a partial plan as a project evaluation that will improve the quality of life of the people who dedicate themselves to this high-impact activity and will also determine the pertinent strategies that must be executed in the town to affect an urban symbiosis mutualistic and / or urban regeneration, where this high impact activity is maintained without interfering with its context.