Sumapaz - Estudio de paisaje en la subcuenca del río San Juan y El Pilar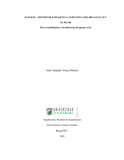 Date
2021
Author
Amaya Peñuela, Julian Alejandro
Título obtenido
Arquitecto(a)
Publicador
Universidad La Gran Colombia
Share
TY - GEN T1 - Sumapaz - Estudio de paisaje en la subcuenca del río San Juan y El Pilar AU - Amaya Peñuela, Julian Alejandro Y1 - 2021 UR - http://hdl.handle.net/11396/7014 PB - Universidad La Gran Colombia AB - This project is developed within the framework of the landscape of rural areas in Colombia, specifically in what is understood as the sub-basin of the San Juan river in Sumapaz, Bogotá. The area maintains a division between the natural protection areas of the Sumapaz National Park and the population centers of the townships of San Juan and La Unión, showing both quantitative and qualitative landscape components that comprise the urban-rural relationship. The main problems that have been identified include the devaluation of the rural landscape, the loss of ecosystem composition, and overexploitation due to human intervention. Based on this, the objective is to propose, through a landscape study, planning, consolidation strategies focused on the integral improvement of the cultural, eco-systemic, and sustainable habitat of the sector. The above framed in a territorial habitat research topic and the constitutive aspects of the rural landscape with both natural and urban perspectives. ER -
@misc{11396_7014, author = {Amaya Peñuela Julian Alejandro}, title = {Sumapaz - Estudio de paisaje en la subcuenca del río San Juan y El Pilar}, year = {2021}, abstract = {This project is developed within the framework of the landscape of rural areas in Colombia, specifically in what is understood as the sub-basin of the San Juan river in Sumapaz, Bogotá. The area maintains a division between the natural protection areas of the Sumapaz National Park and the population centers of the townships of San Juan and La Unión, showing both quantitative and qualitative landscape components that comprise the urban-rural relationship. The main problems that have been identified include the devaluation of the rural landscape, the loss of ecosystem composition, and overexploitation due to human intervention. Based on this, the objective is to propose, through a landscape study, planning, consolidation strategies focused on the integral improvement of the cultural, eco-systemic, and sustainable habitat of the sector. The above framed in a territorial habitat research topic and the constitutive aspects of the rural landscape with both natural and urban perspectives.}, url = {http://hdl.handle.net/11396/7014} }
RT Generic T1 Sumapaz - Estudio de paisaje en la subcuenca del río San Juan y El Pilar YR 2021 LK http://hdl.handle.net/11396/7014 PB Universidad La Gran Colombia AB This project is developed within the framework of the landscape of rural areas in Colombia, specifically in what is understood as the sub-basin of the San Juan river in Sumapaz, Bogotá. The area maintains a division between the natural protection areas of the Sumapaz National Park and the population centers of the townships of San Juan and La Unión, showing both quantitative and qualitative landscape components that comprise the urban-rural relationship. The main problems that have been identified include the devaluation of the rural landscape, the loss of ecosystem composition, and overexploitation due to human intervention. Based on this, the objective is to propose, through a landscape study, planning, consolidation strategies focused on the integral improvement of the cultural, eco-systemic, and sustainable habitat of the sector. The above framed in a territorial habitat research topic and the constitutive aspects of the rural landscape with both natural and urban perspectives. OL Spanish (121)
Gestores bibliográficos
Abstract
El presente proyecto se desarrolla en el marco del paisaje de las áreas rurales en Colombia, específicamente en lo que se comprende como la subcuenca del rio San Juan en Sumapaz, Bogotá. La zona mantiene una división entre las áreas de protección natural del parque nacional Sumapaz con los centros poblados de los corregimientos de San Juan y La Unión, mostrando componentes paisajísticos tanto cuantitativos como cualitativos que comprenden la relación urbano - rural. Las principales problemáticas abordadas que se han evidenciado vislumbran una desvalorización del paisaje rural, la perdida de la composición de los ecosistemas y la sobre explotación por la intervención humana. Partiendo de esto se plantea el objetivo de mediante un estudio de paisaje proponer estrategias de planeación y consolidación, enfocadas en el mejoramiento integral del hábitat cultural, eco - sistémica y sostenible del sector. Lo anterior enmarcado en un tema de investigación del hábitat territorial y los aspectos constitutivos del paisaje rural con perspectivas tanto de lo natural como de lo urbano.
Abstract
This project is developed within the framework of the landscape of rural areas in Colombia, specifically in what is understood as the sub-basin of the San Juan river in Sumapaz, Bogotá. The area maintains a division between the natural protection areas of the Sumapaz National Park and the population centers of the townships of San Juan and La Unión, showing both quantitative and qualitative landscape components that comprise the urban-rural relationship. The main problems that have been identified include the devaluation of the rural landscape, the loss of ecosystem composition, and overexploitation due to human intervention. Based on this, the objective is to propose, through a landscape study, planning, consolidation strategies focused on the integral improvement of the cultural, eco-systemic, and sustainable habitat of the sector. The above framed in a territorial habitat research topic and the constitutive aspects of the rural landscape with both natural and urban perspectives.
Except where otherwise noted, this item's license is described as Attribution-NonCommercial-NoDerivatives 4.0 International
Related items
Showing items related by title, author, creator and subject.
Roa Martin, Karent Alejandra

;

Uribe Garcia, Andrea Viviana

(

Universidad La Gran Colombia; Arquitectura; Arquitectura

,

2020-12-11

)

Esta investigación plantea un estudio de paisaje para el embalse La Esmeralda y las zonas rurales de los municipios de Almeida, Chivor y Macanal en la región del Valle de Tenza, ubicados en el departamento de Boyacá. Este ...

Fandiño López, Yuri Vanessa

;

Góngora Montoya, Manuel Alejandro

;

Súarez Súarez, Laura Ximena

(

Universidad La Gran Colombia; Arquitectura; Arquitectura

,

2018

)

El Cañón del río Combeima, se encuentra en la cordillera central de Colombia, en la ciudad de Ibagué, departamento del Tolima. Es un paisaje montañoso de alto relieve con una población dedicada a la agricultura y el turismo ...

López González, Andrea Elizabeth

(

Universidad La Gran Colombia; Arquitectura; Arquitectura

,

2020

)

Esta investigación busca diseñar estrategias para la apropiación, resguardo y articulación de los paisajes naturales y culturales, a través de la creación de un circuito turístico integrando a la comunidad, a fin de reconocer ...