VIVIENDAS MAPVIS: Modelo de autoconstrucción para viviendas sostenibles enfocada en poblaciones vulnerables ubicadas en Quibdó - Chocó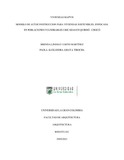 Date
2021
Author
Costo Martínez, Brenda Lindsay
Amaya Tibocha, Paola Alexandra
Título obtenido
Arquitecto(a)
Publicador
Universidad La Gran Colombia
Share
TY - GEN T1 - VIVIENDAS MAPVIS: Modelo de autoconstrucción para viviendas sostenibles enfocada en poblaciones vulnerables ubicadas en Quibdó - Chocó AU - Costo Martínez, Brenda Lindsay AU - Amaya Tibocha, Paola Alexandra Y1 - 2021 UR - http://hdl.handle.net/11396/6211 PB - Universidad La Gran Colombia AB - This work arises from the need to improve the quality of residential life of Quibdo's population, through a sustainable productive housing design and a manual of self-construction of it, allowing direct participation and savings for the owner's economy. The prototype is based on a design that responds to the location, geographical conditions, needs of the environment and culture of the place, as well as the implementation of characteristic materials of the area, in order to take advantage of the resources of the place and reduce the environmental impact that is generated; strategies were implemented to minimize this impact by generating comfort and effective solutions, improving the quality of life of Quibdó's inhabitants. For the development of the project, the productive architecture is contemplated seeking the progress and self-support of the user; providing growth opportunities in the homes of the inhabitants, an efficient exploiting of their resources and generating a positive impact within their economy. ER -
@misc{11396_6211, author = {Costo Martínez Brenda Lindsay and Amaya Tibocha Paola Alexandra}, title = {VIVIENDAS MAPVIS: Modelo de autoconstrucción para viviendas sostenibles enfocada en poblaciones vulnerables ubicadas en Quibdó - Chocó}, year = {2021}, abstract = {This work arises from the need to improve the quality of residential life of Quibdo's population, through a sustainable productive housing design and a manual of self-construction of it, allowing direct participation and savings for the owner's economy. The prototype is based on a design that responds to the location, geographical conditions, needs of the environment and culture of the place, as well as the implementation of characteristic materials of the area, in order to take advantage of the resources of the place and reduce the environmental impact that is generated; strategies were implemented to minimize this impact by generating comfort and effective solutions, improving the quality of life of Quibdó's inhabitants. For the development of the project, the productive architecture is contemplated seeking the progress and self-support of the user; providing growth opportunities in the homes of the inhabitants, an efficient exploiting of their resources and generating a positive impact within their economy.}, url = {http://hdl.handle.net/11396/6211} }
RT Generic T1 VIVIENDAS MAPVIS: Modelo de autoconstrucción para viviendas sostenibles enfocada en poblaciones vulnerables ubicadas en Quibdó - Chocó YR 2021 LK http://hdl.handle.net/11396/6211 PB Universidad La Gran Colombia AB This work arises from the need to improve the quality of residential life of Quibdo's population, through a sustainable productive housing design and a manual of self-construction of it, allowing direct participation and savings for the owner's economy. The prototype is based on a design that responds to the location, geographical conditions, needs of the environment and culture of the place, as well as the implementation of characteristic materials of the area, in order to take advantage of the resources of the place and reduce the environmental impact that is generated; strategies were implemented to minimize this impact by generating comfort and effective solutions, improving the quality of life of Quibdó's inhabitants. For the development of the project, the productive architecture is contemplated seeking the progress and self-support of the user; providing growth opportunities in the homes of the inhabitants, an efficient exploiting of their resources and generating a positive impact within their economy. OL Spanish (121)
Gestores bibliográficos
Abstract
El presente trabajo surge de la necesidad de mejorar la calidad de vida residencial de la población del Quibdó, por medio de un diseño de vivienda productiva sostenible y un manual de autoconstrucción de esta, permitiendo una participación directa y un ahorro en la economía del propietario. El prototipo está basado en un diseño que responda a la ubicación, condiciones geográficas, necesidades del entorno y cultura del lugar, como también la implementación de materiales característicos de la zona, con el fin de aprovechar los recursos del lugar y reducir el impacto ambiental que se genera; se implementaron estrategias para minimizar dicho impacto generando confort y soluciones eficaces para la mejora de calidad de vida de los pobladores de Quibdó. Para el desarrollo del proyecto se contempla la arquitectura productiva buscando el progreso y auto sustentación del usuario; brindando oportunidades de desarrollo en las viviendas de los pobladores, aprovechando sus recursos de manera eficiente y generando un impacto positivo dentro de su economía.
Abstract
This work arises from the need to improve the quality of residential life of Quibdo's population, through a sustainable productive housing design and a manual of self-construction of it, allowing direct participation and savings for the owner's economy. The prototype is based on a design that responds to the location, geographical conditions, needs of the environment and culture of the place, as well as the implementation of characteristic materials of the area, in order to take advantage of the resources of the place and reduce the environmental impact that is generated; strategies were implemented to minimize this impact by generating comfort and effective solutions, improving the quality of life of Quibdó's inhabitants. For the development of the project, the productive architecture is contemplated seeking the progress and self-support of the user; providing growth opportunities in the homes of the inhabitants, an efficient exploiting of their resources and generating a positive impact within their economy.
Except where otherwise noted, this item's license is described as Attribution-NonCommercial-NoDerivatives 4.0 International
Related items
Showing items related by title, author, creator and subject.
Labrador Avendaño, Geimar Mauricio

(

Universidad La Gran Colombia; Arquitectura; Arquitectura

,

2016

)

La formulación de este proyecto está arraigada en un problema de inundaciones constantes que tiene como damnificados a los habitantes del corregimiento El Porvenir, un asentamiento ubicado a cinco kilómetros del casco ...

Cristancho Colmenares, Luis Alberto

(

Universidad La Gran Colombia; Arquitectura; Arquitectura

,

2021

)

El déficit de vivienda no solamente describe la ausencia o falta de vivienda, sino el conjunto de carencias y precariedad, que determinan las condiciones en que habita la población. Boavita, es el municipio más grande de ...

Briceño Poveda, Oscar Daniel

(

Universidad La Gran Colombia; Arquitectura; Arquitectura

,

2021

)

El buen desarrollo de un borde urbano condiciona la expansión de una ciudad, es así como una mala planeación puede desencadenar en la utilización de diversos terrenos rurales como urbanos, la presión inmobiliaria que se ...