E.T.C.R. BIUTÁ. Espacio Territorial de Capacitación y Reincorporación, para los actores del posconflicto en el municipio de Viotá - Cundinamarca.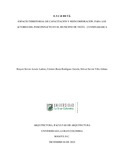 Date
2020
Author
Acosta Ladino, Brayan Steven
Rodríguez Garzón, Cristian Jhoan
Villa Aldana, Edwar Steven
Título obtenido
Arquitecto(a)
Publicador
Universidad La Gran Colombia
Abstract
La provincia del Tequendama es una zona emblemática de Cundinamarca, en ella hay diez municipios donde destaca uno en particular sobre el piedemonte de la Cordillera Oriental a 86 km y a solo dos horas de Bogotá esa es Viotá, a lo largo de su historia, desde su fundación hasta los tiempos modernos Viotá se ha visto envuelta en unos acontecimientos relacionados a los conflictos por parte de subversiones campesinas las cuales estuvieron marginadas en intervalos periódicos entre el siglo XIX y principios del siglo XXI. Los antecedentes históricos de Viotá son particulares, declarado como capital cafetera de Cundinamarca, productor de frutas y verduras, recientemente productor de cacao y de actividades pecuarias, con un clima cálido templado, tal cual como lo nombrara (Acero, 2007) en su libro Viotá: Un Paraíso entre los Andes Colombianos, no obstante, también ha sido el epicentro del conflicto armado, disputas ideológicas políticas donde el 70 % de la población está declarada como víctima y los índices de migración siguen aumentando. Estos problemas han llevado a los viotunos a estar entre un fuego cruzado. La necesidad de atender algunos problemas desde la óptica de la arquitectura lleva a plantear en esta población golpeada por el conflicto un proyecto arquitectónico llamado "E.T.C.R. BIUTÁ Espacio Territorial de Capacitación y Reincorporación" y a través de este, brindar oportunidades de formación y educación para la producción de abastecimiento elementos agrícolas fortaleciendo la explotación agraria de Viotá e integrando a la comunidad con una invitación a la reconciliación y el trabajo en equipo.
Abstract
The province of Tequendama is an emblematic area of Cundinamarca, in it there are ten municipalities where one in particular stands out on the foothills of the Eastern Cordillera 86 km and only two hours from Bogotá that is Viotá, throughout its history, from its foundation until modern times Viotá has been involved in some events related to conflicts by peasant subversions which were marginalized at periodic intervals between the 19th century and the beginning of the 21st century. The historical antecedents of Viotá are particular, declared as the coffee capital of Cundinamarca, a producer of fruits and vegetables, recently a producer of cocoa and livestock activities, with a warm temperate climate, just as Acero (2007) named it in his book Viotá: A Paradise among the Colombian Andes, however, has also been the epicenter of the armed conflict, political ideological disputes where 70% of the population is declared as victims and migration rates continue to increase. These problems have led the Viotunos to be caught in the crossfire. The need to address some problems from the perspective of architecture leads to the proposal of an architectural project in this population hit by the conflict called "E.T.C.R. BIUTÁ Territorial Space for Training and Reincorporation" and through this, provide training and educational opportunities for the production of agricultural supplies, strengthening the agricultural exploitation of Viotá and integrating the community with an invitation to reconciliation and teamwork.