BO-HÍOS DEL RÍO. Resignificación y reapropiación urbanística de la ronda ambiental del Río Bogotá en la Localidad de Fontibón.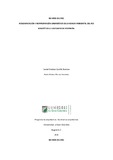 Date
2020
Author
Castillo Ramirez, Daniel Esteban
Alonso Acevedo, Kevin Mateo
Título obtenido
Arquitecto(a)
Publicador
Universidad La Gran Colombia
Abstract
La ocupación informal y el desconocimiento del Río Bogotá como una estructura ambiental, formal y funcional de la ciudad en el borde urbano de la Localidad de Fontibón es motivo de la baja calidad de vida urbana en la población. Agregado a esto, los parámetros normativos restrictivos actuales no sean acompasado con las dinámicas vigentes del río, ocasionando el deterioro de la estructura urbana inmediata y la degradación del sistema ambiental en torno a su cuenca principal y subcuencas, concluyendo en espacios de borde desolados, contaminados e inseguros. Este proyecto implementa estrategias de planificación, diseño urbano y paisajístico a lo largo de la ronda del Río Bogotá y su zona de influencia urbana y rural, resignificando este corredor urbano como eje estructurante de desarrollo urbano y ambiental, hábitat colectivo e identidad local, de manera que, a través del diseño urbano y la planificación, se consolida un modelo de intervención urbanística sensible al agua, que pone en valor esta importante estructura de la capital y direcciona un desarrollo sostenible. Se establece una metodología desde el diagnóstico del territorio clásico que analiza los fenómenos que afectan al territorio en las escalas y las estructuras de la ciudad, complementase con el diagnóstico desde las unidades del paisaje, dando lineamientos para la intervención en el espacio público como eje catalizador de dinámicas urbanas y sociales para la transformación del territorio.
Abstract
The informal occupation and ignorance of the Río Bogotá as an environmental, formal and functional structure of the city on the urban edge of the Fontibón Town is a reason for the low quality of urban life in the population. Added to this, the current restrictive regulatory parameters are not matched with the current dynamics of the river, causing the deterioration of the immediate urban structure and the degradation of the environmental system around its main basin and sub-basins, concluding in desolate, contaminated spaces and an insecure edge. This project implements planning strategies, urban and landscape design along the Río Bogotá ring road and its urban and rural area of influence, redefining this urban corridor as a structuring axis of urban and environmental development, collective habitat and local identity, in a way that, through urban design and planning, a water-sensitive urban intervention model is consolidated, which highlights this important structure of the capital and directs sustainable development. A methodology is established from the diagnosis of the classic territory that analyzes the phenomena that affect the territory in the scales and structures of the city, complemented with the diagnosis from the landscape units, giving guidelines for intervention in the public space as a catalyst axis of urban and social dynamics for the transformation of the territory.