La ampliación del MAMBo como catalizador urbano para la integración cultural y ambiental del centro de Bogotá.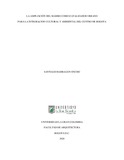 Date
2020
Author
Barragán Enciso, Santiago
Título obtenido
Arquitecto(a)
Publicador
Universidad La Gran Colombia
Abstract
El arte moderno o contemporáneo ha sido una de las corrientes artísticas que, bajo la influencia norteamericana y su concepción capitalista, ha logrado establecer un importante espacio dentro del ámbito cultural occidental (Ventós, 2006). Particularmente en Bogotá, este panorama se evidencia en el incremento del número de visitantes al Museo de Arte Moderno de la ciudad, pasando de 30.000 a 47.000 personas entre 2015 a 2017 (Díaz, 2018). Sin embargo, el área actual del museo no cumple con las necesidades de espacio y almacenamiento de las obras que alberga en su colección permanente. Con base en un análisis arquitectónico y funcional del edificio del MAMBo, junto con referentes internacionales de intervenciones de ampliación y espacio público, se expone una propuesta de diseño que permita aumentar su área de exposición y stock e integrarlo de una forma más directa y funcional con el espacio público que lo rodea, de tal manera que se pueda explotar la riqueza artística de las obras de arte que alberga en sus galerías y bodegas, y así mismo, se potencialicen sus espacios para que sea un catalizador urbano en una zona afectada por el detrimento social y el abandono público
Abstract
Modern or contemporaneous art has been one of the artistic movements established in the western cultural scene due to its north-American influence and its capitalist conception. (Ventós, 2006). Particularly in Bogota, this panorama is evident on the increase of visitors' number to the Bogota Museum of Modern Art (MAMBo as its Spanish acronym), going from 30.000 to 47.000 persons between 2015 and 2017 (Díaz, 2018). However, the actual size of its building does not fulfill its space and storage capacity needs, becoming a big issue to its artworks and permanent collection. Based on an architectural and functional analysis of the MAMBo's building, along with international references in public space and expansion interventions, a design proposal is exposed that allows extend its exposition area and storage at the same time as it joins the museum in an efficient way with the public space that surrounds it, so that can be exploited the artistic potential of its collections on greater and bigger galleries, taking advantage of its internal areas and becoming an urban catalyzer on a social and abandoned zone.